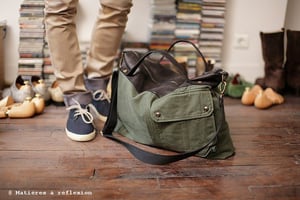 €

250.00
Le Cabas Romain L'Atelier Matières à réflexion est réalisé à partir de toile vintage souple de pantalons de l'armée française avec des renforts en cuir noir.Avec sa bandoulière en sangle et ses poignées, il peut être porté main ou en bandoulière. Coté pratique, il contient les documents A4, un ordinateur portable et possède une poche intérieure séparée en trois compartiments.
ATTENTION : les détails varient d'une pièce à l'autre - Contactez-nous pour avoir une photo exacte du modèle en stock. La photo ci-jointe est uniquement INDICATIVE.
[Pièce unique - fabriqué dans notre atelier parisien]
[Dim Cabas : 40 x 28 x 7 cm / Cabas XL (photo 2 et 3) : 45 x 35 x 7 cm]
[Bandoulière réglable 1m]
[Finitons Laiton vieilli - zip laiton vieilli]
---
The L'Atelier Matières à réflexion Cabas Romain men's bag is an everyday zipped bag made from vintage soft Army trousers with reinforcements made of black leather. With its long canvas strap and leather handles, it can be worn across or by hand. On the practical side, it holds A4 documents, a laptop and has a large pocket made of three compartments.
ATTENTION : Details vary from one bag to the other - contact us for an exact photo of the Romain bags we have at a given time. This photo is only INDICATIVE.
[Dim Cabas : 40 x 28 x 7 cm / XL cabas (photos 2 and 3) : 45 x 35 x 7 cm]
[Adjustable strap 1m]
[Aged-brass buckles]
[Hand-made in our Paris studio]
---
Livraison / Delivery
France 10E / Europe 20E
USA-Canada-Russia 35E
Japan-Korea-China-Australia 40E